Words Eye View
More About: Religion: Believers
Postal Inspector Claims Mailing Bibles Against the Law
The information in this article comes from the autobiography of Franklin Graham titled Rebel With a Cause (Thomas Nelson, Inc. Nashville, TN – 1995 ) pp. 241-245.
Gen. Schwarzkopf also mentioned this in his memoirs It Doesn't Take a Hero. The General said   that Prince Khalid of Saudi came to him with one of the New Testaments and said, "What is this all about?" The Saudis considered this material "religious pollution."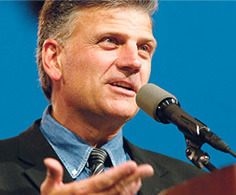 Franklin Graham
Franklin Graham relates his encounter with a Chaplain, a Colonel from General Schwarzkopf, who had called him at his offices at Samaritan's Purse, Graham's organization, to explain to him that the ministry could not send spiritual tracts and Arabic Bibles to the soldiers in Saudi Arabia, Kuwait, and other Arab countries. Graham's organization had sent tens of thousands of Arabic New Testaments and gospel tracts to our servicemen during the Desert Shield and Desert Storm conflict just before Christmas of 1990, along with a music tape, and a word of encouragement. Following was the message written on the little card enclosed with the materials:  
Dear Fellow American:
            Now that you are in the Persian Gulf, you may find that you have some spare time. Don't waste it! Instead, why not try learning to read a little Arabic?
            Enclosed is a copy of the New Testament in the Arabic language. You may want to get a Saudi friend to help you read it.
            We're very proud of you, and we pray that God will protect you and bring you safely home to your loved ones.
Graham said that he never dreamed a copy of one of these Arabic New Testaments would get the attention of General Schwarzkopf and that he was stunned when the Chaplain called him and said that he was putting a lot of men and women in harm's way. Graham said that Saddam and our government were the ones that were putting our people in harm's way. The Colonel said, "After all, we're here to protect the Saudis, and they are an Islamic nation, not Christian."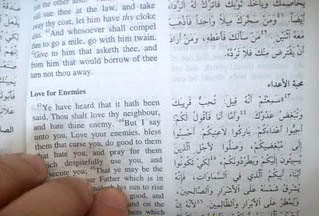 Graham told him that he was a Christian chaplain but he couldn't even wear a cross in public and that they wanted our blood, but not what we believe in; in other words, not the blood of Jesus.
Among other things, Graham said that he remembered that the operation was called Desert Shield. And then he said, "Sir, the Cross of Jesus Christ is what made America great. America was built upon the Christian faith of our ancestors. It ticks me off that the Saudis are pressuring our military to restrict our religious expression. It doesn't sit well with the American people either."
Graham said that after he finished a hush fell over the line. "I understand what you're trying to do," the Colonel replied. "I'm an evangelical too. But I'm under orders…" Franklin said, "So am I, sir --- orders from the King of kings and Lord of lords --- to go into all the world and preach the gospel and make disciples of every nation."
The Colonel paused again. "I understand. I guess you might as well know some of the results of your work." He began sharing stories of spiritual activity among our soldiers, including baptisms out in the desert --- in foxholes, of all places.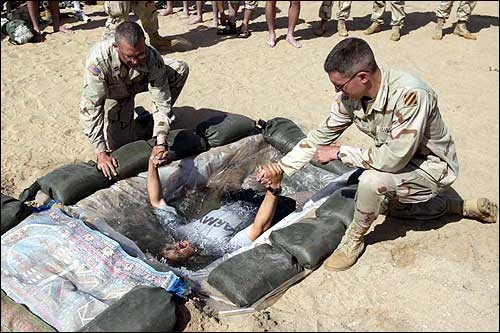 A makeshift baptismal in the desert
U.S. Postal Inspector – "You have broken the law"
 Graham said that even though he felt that he had gotten off the hook with the Colonel, someone from the U.S. Postal Inspector's Office contacted him: "I'm calling to inform you that you have broken the law." Graham said, "What are you talking about?" He said, "Sir, you have been sending Bibles and religious material to Saudi Arabia. We have had strict instructions that religious material, alcohol, and pornographic literature cannot be sent to Saudi Arabia. "Hmmm," Graham thought, "the Bible, whiskey, and pornography all lumped together." He got angry.
"You say I've broken the law," he answered. "Tell me --- is it against the law to send the Bible through the mail?"  The inspector said, "Yes, it is." Graham questioned, "It is?" The inspector stuttered, "Well --- it's against Saudi law." Graham replied, "Whew, man, you had me scared for a minute. I don't live in Saudi Arabia --- I live in the United States of America. I didn't know the Saudis had taken over."
The inspector went on trying to explain that we were in a war time situation and ranted for awhile, and that was the end of the story. Graham ended the program voluntarily. Following is the fascinating finish to this unbelievable story.
God meant it for good
"…ye thought evil against me; but God meant it unto good"   [Gen. 50:20ab]
Graham continued his account:
Samaritan's Purse called this project 'Operation Desert Save'. It generated many wonderful letters from the field. One sergeant said that the music had touched him deeply, "Tears of joy began to flow. I pulled my cap down over my eyes so that my tears of unspeakable joy would not be confused as stress symptoms by my men." He thanked us for the Arabic New Testament and promised to pass it on.

 

Another letter came from a solder who wrote, "I gave the Bible to a person in my platoon who knew a Saudi Arabian who wanted a Holy Bible."

 

Another soldier – "The Saudis give us tracts trying to indoctrinate us with Islam. Thank you for giving us something we can give back to them to explain our faith in Jesus Christ."

 

Of all the responses I was touched most deeply by a letter from an A-10 pilot. "Just two weeks earlier I had been trying to kill those guys. Then I found myself in an army hospital talking with an Iraqi POW. I gave him the Arabic New Testament.
 Graham said that after the Gulf War ended the Chaplain Colonel called him to renew their conversation about the Bibles and tracts. He said that Gen. Schwarzkopf had ordered him to confiscate all the Bibles and tracts that had been sent and mail them back,  which numbered about a hundred. Graham had expressed sadness, but inside he was rejoicing -- because they had mailed thousands.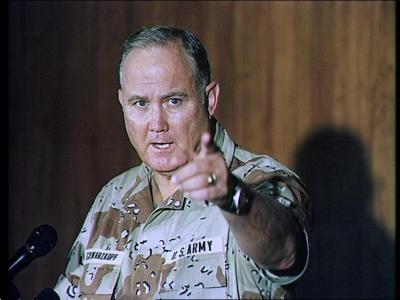 General Normal Schwarzkopf
Then the Colonel continued telling about a young man that he met over there, a foreign construction worker who had organized a distribution system for the tracts and New Testaments. He has based his methods on the KGB model -- organizing a number of small groups in which no one knew another person's last name. That way, if anyone is caught and tortured, he won't be able to give away the whole network. A few of his helpers are Saudi citizens and others are foreigners working for Saudi companies. Secretly they are getting Bibles into the hands of Saudis. 

 

And then he said, "Oh, by the way, Franklin -- all those Testaments we confiscated to send back to you? Well, with the war and all, somehow we, uh, lost them." He asked me if we had any more which I told him we had several pallets. "Why?" He said that if I could get them to him he would see to it that they would get where they would need to go. Obviously he was talking about getting them to the young man who had the distribution plan.
Since Desert Shield and Desert Storm things have grown much worse under the Obama administration. They are making sure that their No Bibles or Christian literature ban in Moslem countries is strictly enforced. So while the Muslims continue to enjoy religious freedom in our land, our military, who are risking their lives daily to protect them from their own Moslem thugs that would destroy their countries, cannot share their faith without risking court martial, and Chaplains cannot pray in Jesus' name.
If you want the quarterly Trumpet Newsletter (the voice of the unregistered church movement) Greg Dixon, Editor - send email address to: drgregdixon@earthlink.net.