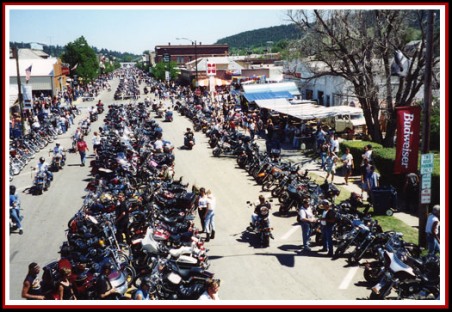 Sturgis resident Kay Glover lives on a 20 acre lot in the city limits that welcomes RonPaulRevolutionaries and their bikes just off Exit 32. Her address is 411 Glover st. in Sturgis and she is welcoming all Ron Paul Supporters. Please call her if you can be of any assistance to help promote Ron Paul at one of the last large demonstrations of freedom in America that is a decades old tradition.
605-347-2495 is Kay's direct phone number.
Kay and her fellow RPRevolutionaries are working hard but can already see that the early arrivals are far more supportive of Ron Paul than they anticipated and were very happy to have the RonPaulRevolution able to answer their call for help. We just FedEx'd material today that will arrive in Sturgis tomorrow (Saturday the 4th of August) from Phoenix and from our sign production in Des Moines we sent them at least a dozen large signs and a dozen small yard signs. Along with the printed material and stickers they will be sure to have a lasting impression that the RonPaulRevolution was in town.
Please contact Kay Glover if you can be of any additional help. Please forward this article to friends that you know will be attending the Rally and are supporters of Ron Paul,... over half a million bikers will appreciate the work :)