Developing Story - From I can learn. There was a blog post on Alex Jones' web site by a blogger threatening Law Enforcement. So the FBI come to Alex's studio and pulled him off the air to... not sure why specifically. But they cerrtainly wanted the post taken down. And I'm sure they wanted any additional information about the individual that Alex Jones was able to provide.
I'll post more as I know it but Alex was forced to run pre-recordings while dealing with the demands of the FBI for the actions of another using his site to express himself in an illegal manner as alleged by the FBI.
More to come.....
Alex Jones Interrupted by FBI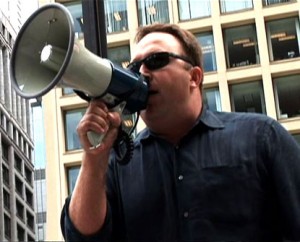 Today the Alex Jones Show (
prisonplanet.tv
) was interrupted by a visit from agents of the FBI. They took Alex from his broadcast booth for a 30 minute "interview."
When Alex came back on the air, he stated that the "interview" was related to postings, by an unaffiliated third party, on one of his websites, and that the FBI delivered a subpoena related to those postings which will require Jones' presence at a trial in Virginia.
A call to the Jones studio confirmed that Alex is fine. Highlights from previous shows were played during the initial period of today's rebroadcast, followed by the show interval which immediately followed the FBI's intrusion on today's show.
Please go to Alex's website and tell him you support his efforts and pray for him and his family's welfare daily.
-D.W.
---