Why These Few Oil Stocks Have Huge Upside in 2011
Wall Street is warming up to oil stocks again.
Over the past month, analysts have been upgrading industry giants like BP and Royal Dutch Shell. And these companies are raising their earnings estimates and target prices.
The move makes sense. Demand for oil from emerging markets like China and India is skyrocketing. On the supply end, it's more difficult than ever to find new deposits. Huge demand coupled with depleting supply has helped push oil up 25% over the past four months...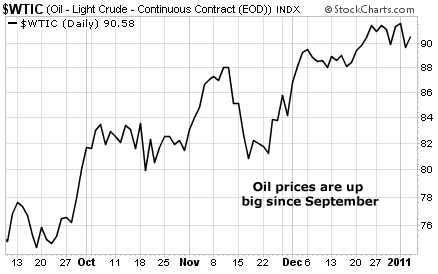 I have no idea where oil prices are going. What I do know is that OPEC is projecting exploration and production companies will increase capital expenditures ("cap-ex") by 11% this year. That amounts to almost $500 billion for 2011.
Cap-ex is the amount of cash oil companies will spend to increase reserves. In other words, this money will be spent on new oil exploration projects. And OPEC said most of this capital will be used to fund projects outside the U.S.
Based on the enormous amount of cash that will be spent on new projects – and to upgrade existing oil projects – buying the oil services companies is a no-brainer. These are the guys that provide the "picks and shovels" for companies like ExxonMobil, BP, and Chevron.
Below is a list of four oil services companies that should be major beneficiaries. I've provided the market cap, forward price-to-earnings ratio, and projected sales growth. I also added the percent of revenue earned outside of the U.S. – since that's where most of the cap-ex money will be spent.
Company

Forward P/E

2011 EPS Growth

% Revenue Outside

the U.S.

Schlumberger (SLB)

21

36%

83%

Halliburton (HAL)

14

37%

64%

Baker Hughes (BHI)

17

60%

68%

Weatherford (WFT)

18

117%

69%
Each of these companies is expected to grow earnings at more than 35% in 2011. But based on the table, the best values are Halliburton, Weatherford, and Baker Hughes. These companies are trading at the cheapest levels relative to their projected earnings growth. Schlumberger has the most exposure to oil service projects outside the U.S.
My advice is to wait before purchasing any of these stocks. Over the next few weeks, each will report quarterly earnings. During earnings season, it's common to see stocks pull back, even after reporting good news. Also, with sentiment levels near three-year highs, we're likely to see a short-term drop in the market following this huge run higher.
If these companies sell off over the next few weeks, I wouldn't wait long to buy. Oil services companies with exposure outside the U.S. are about to see tens of billions of dollars in new orders over the next 12 months.
Good investing,
Frank Curzio
Further Reading:
In the late '90s, China's "Google" scored enormous gains for its investors. With increasing Westernization, Frank forecasts similar gains in China's answer to YouTube and Amazon. Make sure to add these stocks to your watch list. Get the details here:
How to Buy the Next Baidu
.
Matt Badiali shares four small oil and gas companies that could net you triple-digit gains over the next five years. "The secret," he says, "is to focus on relentless reserve growth." Read more here:
The Secret to Making 20-Fold Gains in Oil and Gas
.