PUBLISHER'S NOTE - Phoenix was hit heavy with storms that knocked out power and caused server damage Saturday afternoon - with the H2OPE System, a back up generator, and a plan, we are still here! The generator is running the fridge, internet, Roku and TV, and computers, and the H2OPE System is running the Endless Food Systems aquaponics system. Our chickens seems to be in disarray (I am sure it was scary for them and one appeared injured and was probably hit with flying debris), but all is well.  We were not home during the storm; we were with the grandkids when we got rained out at the Wildlife World Zoo...but when we did return home, we found downed trees, the pool full of debris, and the power was out (and will likely be out for 1-3 days). I hope that we were not the only ones for miles that had a plan! It was a good test for us - being without power and everything in disarray has helped us to put in to practice the preparedness skills we have talked about for so long....See the map below - we were in storm central...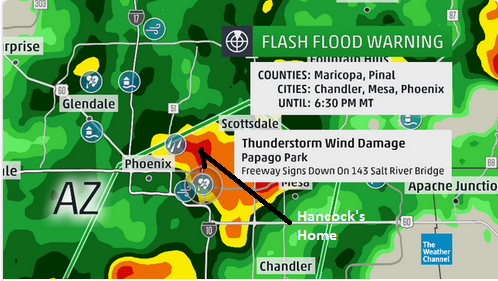 FROM THE WEATHER CHANNEL...
Metropolitan Phoenix was hammered by an intense storm Saturday that left thousands without power and almost entirely obscured visibility throughout the city. 
Strong winds, thunder and a cascade of rain pounded the city, littering streets with downed trees and causing damage at the Phoenix airport.
Enough rain fell to create flash flood conditions on I-17 at Durango Curve, forcing authorities to close a section of the interstate. As much as 1.59 inches of rain fell at the Phoenix Sky Harbor International Airport, which broke the old daily rainfall record that was set in 1903.
Throughout Phoenix, wind gusts exceeded severe limits, including the 67 mph wind gust recorded near Luke Air Force Base as well as the 71 mph wind gust recorded east of Peoria in Maricopa County.
Flight departures and landings were halted at Phoenix Sky Harbor International Airport for about an hour as 67 mph wind gusts produced roof and window damage at one of the airport's terminals. Airport spokeswoman Julie Rodriguez said more than 30 flights scheduled to land in Phoenix were diverted to other airports. Rodriguez also stated that takeoffs and landings were halted between 2:30 and 3:30 p.m. due to the winds and heavy rain.