Materials are a designer's paint and canvas–and for the most part, they've remained pretty static in recent decades. But over the past few years, and in 2017 in particular, we saw new advances in material science that gave creators plenty of exciting toys to play with, from brand new colors and types of inks to new ways of reusing older materials. Here are six of the most innovative.
Super Black Paint From Car Exhaust
MIT Media Lab alum Anirudh Sharma invented a device that attaches to the exhaust pipe of vehicles to capture soot before it reaches the air. That's great for the environment–but it turns out it's also good for artists. Sharma and his colleagues found a way to transform this soot into black paint, and after years of research they released a series of inks, pens, and artist paints made of the material this year. Each pen's ink contains about 45 minutes of car exhaust–air pollution that was prevented from reaching people's lungs and can instead be turned into art.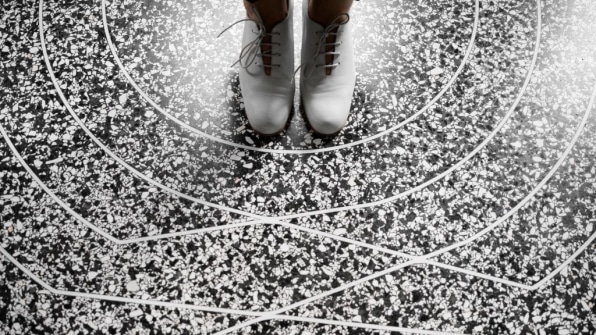 [Photo: Aectual]
The First 3D-Printed Floor
The Dutch company Aectual uses giant 3D-printing robots to lay down a super-durable recycled bio-plastic material across huge surfaces. Once a design is created, the cracks are filled in with terrazzo, a mix of recycled chips and a binding material. In 2017, it created custom floors for the clothing company Loft's flagship store in Tokyo, and then moved on to the floors for the Schiphol Airport in Amsterdam.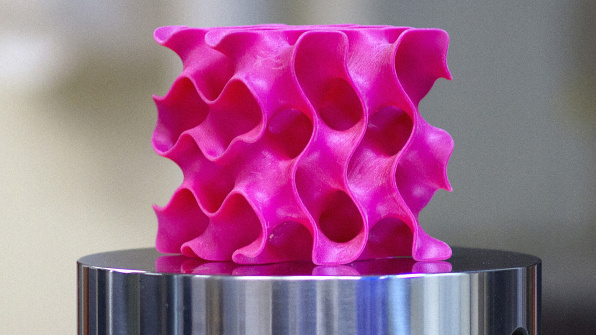 [Photo: Melanie Gonick/Mit]
The Perfect Material For Building In Space
Graphene–a two-dimensional form of carbon–has long been considered a miracle material because it's so strong. This year, scientists at MIT found a way to turn this ultra-thin material into three-dimensional structures that are 10 times stronger than steel and only 5% as dense. The breakthrough material takes scientists one step closer to the sci-fi dream of building a space elevator. And in the meantime, it can also help reduce the amount of steel needed in infrastructure back on Earth.