When it comes to aimlessly bemoaning about how inflation is a giant mystery that nobody will ever figure out, the Federal Reserve are experts. When it comes to actually assessing real world inflation that is rearing its head in places that have a direct impact on consumers, the Fed is conspicuously absent from the conversation.
And of all places inflation can rear its head, showing up at Walmart might be the worst possible outcome for consumers that can least afford it. According to Bloomberg, product manufacturers are boosting prices across the board, which means that "something has to give", both for Walmart and for the consumer.
Meanwhile, average prices for consumer goods were up 2.3% in the first six months of 2019, rising at the fastest pace in several years. Walmart says it saw "modest inflation" in the first quarter, but a shopping trip cost an astounding 5.2% more in June than it did a year prior. That's a profound difference, especially for many lower income consumers that are forced to be thrifty.
Companies like Coca-Cola, Pepsi and Procter & Gamble are all raising prices, putting Walmart to the decision of whether or not they can absorb the price hike at the expense of their profit margins, or if they should pass them along to shoppers, risking losing sales. Walmart also has the option to try to work with suppliers to delay or mitigate the impact, and it's estimated that the retailer will use a combination of all three things.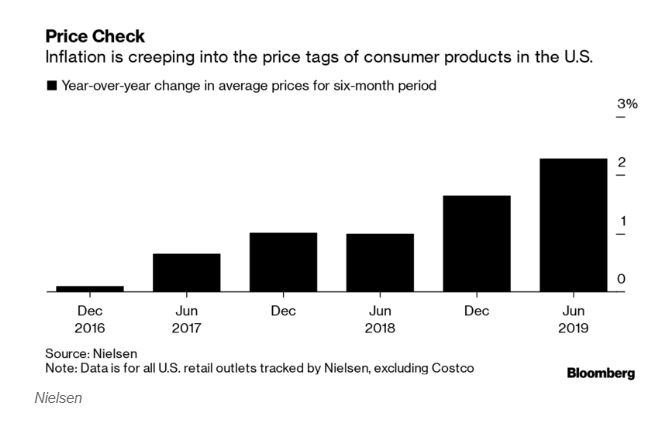 Brian Yarbrough, an analyst at Edward Jones, said: 
"Walmart will do everything they can to not pass this on to consumers, but at some point they will have to because there is not enough cost savings to offset the inflation we're starting to see. Still, they have a lot of leverage over suppliers so I'm sure they're pushing back."
And while most retail chains can sometimes embrace inflation, especially with the macroeconomic picture "steady" and unemployment supposedly in good shape, Walmart's dominance has come specifically from having the lowest prices, which are generally about 10% lower than traditional supermarket chains. If prices start to creep up even the slightest, consumers may defect to places like Aldi, Dollar General or Amazon.
Jim Hertel, a senior vice president at retail consulting firm Inmar Analytics, said:
 "Walmart is convinced that the more they widen their price advantage, the better off they will be."