The original RonPaulRevolutionaries from the Valley of the Sun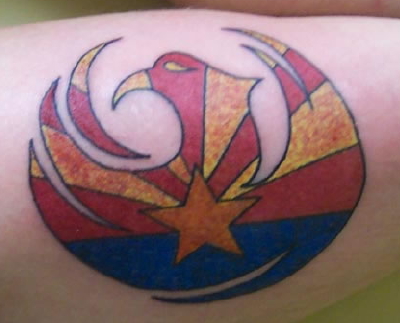 (Phoenix Metro Area in Arizona) have been very busy from the start of the Revolution and have worked hard to export the revolution and help other Revolutionaries support Dr. Ron Paul's effort to restore liberty in America.
To that end we have focused our efforts where needed while still maintaining a constant presence in Arizona. We have produced DVDs and duplicated them by the thousands. RonPaulRevolution (RPR) goodie bags are common around the country and are prepared by Arizona volunteers to help local activists around the country support Ron Paul's message of freedom. These packets include various fliers and brochures as well as bumper stickers and other locally pertinent material.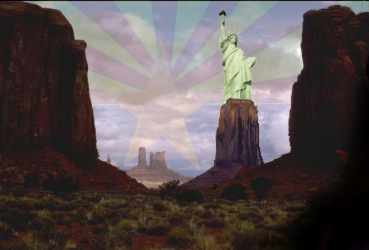 When needed, activists from Arizona are willing to travel at a moments notice to a state in need of Revolutionaries. In the past 8 weeks we have sent activists to Utah, Iowa, Nevada, South Carolina and back to Iowa where I am right now. And we have aided many others with shipments of material that were needed to make all the difference at crucial events where the message needed to be spread by people enthusiastically willing to spread it. After my returning to Phoenix for a short time later this week the RPR of Phoenix will once again be heading back to Iowa in force for the days leading up to the Iowa debates and the following Iowa Straw Poll a week later. This visit is immediately followed by a trip to Virginia and then to Wyoming. Each of these trips have a specific purpose that serves the interest of the RonPaulRevolution (TO FREE AS MANY MINDS AS POSSIBLE WHILE THEY ARE PAYING THE MOST ATTENTION).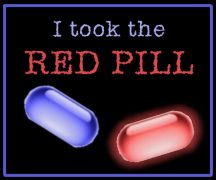 While most of our efforts to "free minds" overlap the interest of the official Ron Paul for President campaign, we are still totally unaffiliated or directed by the presidential campaign and thus free to quickly act to serve the interest of individual activist that are engaged in battles the activists in Phoenix support.
Our week in Las Vegas leading up to the July 7th events helped export the revolution and new friends were made.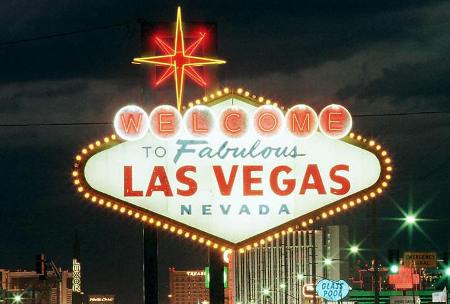 We also were able to expand greatly on a new idea we got from the RPR in Utah. The young Utah activist suggested that the banner material used for the large billboards used in outdoor advertising could have the blank white side on the back used for RPR signs. This unrippable (and I mean unrippable) material made it so that grommets were no longer needed to secure the signs to chain link fences with zip ties. We also discovered that the material is considered a hazardous waste product because they are almost indestructible and the landfills charge extra for their disposal because they do not degrade. Since Las Vegas goes through so many billboards on a regular basis for Casino promotions they are happy to be rid of the material. We have made thousands of 4' x 8' signs around the country for an average price of less than 35 cents each (that's not a typo :) 
Our biggest expense is the shipping of the signs. This is why it is far more efficient for us to travel to other areas of the country to train other activists in the methods of sign production and to secure a steady supply of sign material. The DVDs and the accompaning RPR Goodie Bags are used as targeted promovitional material at GOP events and rallies where they will have the most beneficial impact. Dozens of RPR activist in Arizona have been constantly working to update and print the material included in the packets. Ten of thousands of dollars have been spent in support of a peaceful revolution that we have committed ourselves to. ( BTW - we can use some financial help
https://www.freedomsphoenix.com/Secure/Contributions.htm
)
Readers of FreedomsPhoenix know exactly what is at stake and we are not waiting to be told what needs to be done, or where. In Las Vegas on the 7th of July we learned that South Carolina would be the next main challenge 2 weeks later on the 21st of July. The local leadership of the GOP there had made it known to the national media that Ron Paul's message was not welcome there. After a great deal of pressure from local and out of state GOP supporters of Ron Paul, the local GOP leadership changed their mind and offered an opportunity for Ron Paul to speak to their membership. The event was turned into a fund raiser for the local GOP and the event attracted over 400 people to a location that could only accomodate 350. The crowd was electrified and the local GOP leadership got a good taste of the RonPaulRevolution. This event was followed up by a rally in a nearby town that filled a large ballroom with loud fans of Dr. Paul that sent a very clear message to the local GOP and the media that Dr. Paul has deep support that will not be denied their voice. The stories behind the headlines is what is of interest to many and what readers of FreedomsPhoenix have come to expect from us. So this article will share some information about how things are done in the RPR that put some of our efforts at risk (like getting cheap material) but the net benefit of an open source revolution is certain to outweigh any disadvantage of sharing information.
I arrived in Greenville, South Carolina on Weds. evening July 18th with plans to leave early that Sunday morning on the 22nd for Iowa. The whole purpose of my visit was to make certain that it was clear to every resident driving a car that the Ron Paul Revolution was in town.
Phoenix volunteers had been working for 10 days straight duplicating DVDs, printing material, and stuffing packets so that every attendee to the Ron Paul events left with an activist packet that provided the information they needed to promote Ron Paul for President. Each packet's raw cost to us is almost $2 each but is worth it for the long term effect that they produce.
While the RPR packets were being produced and assembled, other Arizona RPRevolutionaries were making signs. About 70 large 4' x 8' signs were produced for South Carolina along with various templates that were needed for my next stop in Iowa.

Immediately upon arriving in Greenville, SC I meet with 6 men that represented various groups that support Ron Paul's message. I knew going in that there was some bad blood between competing groups of people that had different ideas of what should be done and how, but I had no interest in their internal disputes and made it very clear that I was only interested in individuals that were making signs, wanted to make signs or wanted to help put them up. In just over 2 days from then the entire focus of attention for the Ron Paul campaign would be on them and they knew they would benefit from some focused activism.

All 7 of us had our interests and missions and made arrangments to make sure we all understood what each of us would be doing and how we might serve each other's interest. There were two of the type of activists I was looking for. One young man was a 22 yr. old named Jeremy that managed a bank of computer servers for a local company. The other young man was 19 yrs. old and will be starting his 3rd year of college in the fall, his name is Josh. Josh was home schooled and a very self-motivated individual that had associated with other young people that had abandoned the Meetup groups that were dominated by older men that were constantly discouraging them by being critical of their ideas.

So for the "Ron Paul Put Up" of July 3rd they took the initiative and followed the instructions from the RonPaulRevolution.com site and started producing their own RonPaulRevolution signs and putting them up all around the county near their home. This abandonement of Centralized Authority increased the rift between generations and styles of activism. But with only a couple of days left to have an impact for Ron Paul's visit it was very clear that unless the energy of the youth was embraced then nothing was going to be available to bypass the media blackout.

It was agreed that on the day of the Saturday events we could expect help from some of the Meetup members to distribute the RPR packets we had prepared for South Carolina and that until that time we would be producing and placing as many signs as possible. The following day (Thursday the 19th) I contacted a local Billboard sign company where I obtained for $80 enough banner material for over 300 4' x 8' signs,... SCORE!!!! :)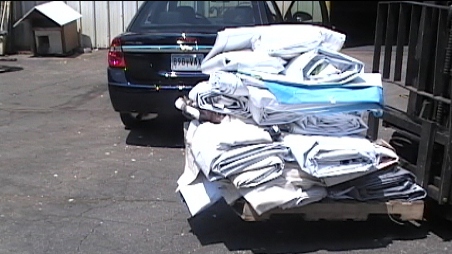 A great addition to the wealth of RPR knowledge is the stencil material that the RPR sign producers of South Carolina discovered. It's called "Waterproof Wall Board" and can be purchased at Lowe's Building Supplies. It lays flat and works like a thick vinyl that can be easily cut with a razor but is stiff enough to hold up and make a great image when spraying a stenciled sign. This is EXACTLY what I have been looking for for this particular application and just bought 5 sheets for Iowa's sign production we are just getting underway. "Thank you South Carolina RPR!"

Over the next 2 days I would make several trips to the local Walmart to keep the sign machine going. The video shows you who the producers were (I'll get the video up as soon as I can,... I'm very busy :)
The average age was about 16 years old. One young man was 11 and a very hard worker for two days. After a day and an a half of questions and working with these 'non-kids' I finally found out what the common thread was for all of the dozen or more young men and women,... they were all home schooled and got their news from the Internet. Some didn't own a television and knew exactly what they were doing and why (brings a tear to the eye, don't it?) The first night they produced over 50+ signs.
Earlier during the day on Thursday Jeremy took his lunch hour at a local campaign stop called "The Beacon". Mitt Romney was having lunch there with supporters. The Beacon is one of those traditional campaign stops for Presidential candidates where they can be photographed meeting with surprised people having lunch. Ron Paul would visit late on Saturday morning just before his GOP speech. Jeremy's actions are typical of the the young. He wore his Ron Paul Revolution t-shirt and positioned himself at the entrance to the event and passed out Ron Paul fliers while inviting people to the GOP event on Saturday.
He called me very excited and asked that I stop by with a sign. I got there about 5 minutes before Mitt left to make sure I got some video of him leaving as he drove past this sign in the parking lot facing the crowd...
After a full workday 22 year old Jeremy showed up to help for a bit and then after it was dark and we all cleaned up Josh's yard it was time to start the long night of placing the signs. Jeremy, Josh and I loaded up the car full of the rolled up signs and began. The video will help you understand the impact but if you can imagine a medium size city with a surrounding population of almost 2 million with a Ron Paul sign every 300 - 400 yards on average for miles in every direction of both cities where Ron Paul was to speak then you can get a rough idea of what took place. It was more than 'Freeway Blogging',... it was "Freeway Spam" :) From sun down to sun rise we worked. The only law enforcement contact we had was a County Sheriff that stopped to make sure we were OK when he saw our car on the side of the road while we were putting up signs on a freeway on ramp. "We're OK, just putting up Ron Paul signs",... "OK, just making sure everyone was OK" and off he drove.
After dropping off the other two men I took a tour of most of the sign placements to record the video. Driving and trying to record video is difficult so be patient with the quality.

Jeremy went straight to work with no sleep and then went straight to bed so that he could be at my hotel at 3am Saturday morning to do it all over again.

I explained to them what happened the previous month in Iowa when we placed all of the signs on the freeway for Friday morning rush hour,... Before the evening rush hour was over all of the Iowa freeway overpasses were cleared,... but not before everyone traveling the freeway system knew that the RonPaulRevolution was in town.
As expected the South Carolina signs were removed before the evening rush hours on Friday evening. But the sign making team would not be denied. They wanted to make sure that all of the Ron Paul supporters coming in from out of town would benefit from all of their hard work. So they produced several dozen more and we went right back out and placed them again in all of the best locations. This time they stayed up through the weekend at least and were all the talk. I was invited to sit at the presenter's table at the GOP event and was able to video tape the event but the event had already been YouTubed by the time I got to my hotel (as I had predicted to the GOP leadership I was sitting with :) The RPR Packets were very popular and Ron Paul's speech was just what these people needed to hear. The crowd was often on their feet and loudly in support of Dr. Paul. The look of shock on the GOP leadership was genuine and frequent. ("You're respecting the RonPaulRevolution now ain't 'ya"). I was as polite as I could muster but it was very clear during my conversations that I would love to come back and make an even greater example of what the RonPaulRevolution is capable of if they disrespect Ron Paul, his message or his supporters again ( I'll come with some Arizona Activist with me next time and then the real fun will be had :) After the Greenville, SC rally there was a $1000 photo/donation event where Ron Paul would pose with supporters. I learned of this planned event from the young sign makers as they were talking about how they might pool their money so one of them could pose with Ron Paul with one of their signs so their efforts could be respresented. Thinking about it now causes my eyes to well up. I called the campaign manager and explained what was going on and he made it clear that they would be welcome to have their pictures taken with Dr. Paul. They'll get their copies soon (here's a couple of screen shots from the video).
Of the 2000 RPR Packets created, about 500 were set aside for events this weekend around South Carolina.
I am now in Iowa where I'm repeating the same effort. Things are going well and they will be in high production with at least 5 work stations within 48 hours. The used billboard signs are harder to come by here and the material is contracted to a company in Minneapolis 250 miles away. A volunteer happen to be coming from Minneapolis to Des Moines to stay for the next 3 weeks to help with the Ron Paul effort here. I made a deal with the company that has thousands of the used vinyl billboards and he is bringing enough for over 500 signs. But it cost me $875. This still makes the cost per sign less than $1.50 per sign finished but we sure have been spoiled and use to much better deals (I suggest that every city get as much of this stuff as possible while we still can - most of it is being shipped to Latin America for various uses).

Iowa has special needs in preparation for the Iowa Caucus that I'll detail later. Supporters of the RonPaulRevolution have worked very hard and have spent great deal of 1st Amendment money making certain that the freedom message is heard. We have demonstrated our sincerity and effectiveness many times over and I'm asking you to help by donating to the Revolution. Please keep in mind that we have absolutly nothing to do with the Ron Paul Campaign for President,... we wouldn't even know how to work so constrained by the government controls.

The RonPaulRevolution is returning to Iowa on the 1st of August and staying through the Iowa Straw Poll on the 11th. I'll provide more details in later articles. If you live in the Phoenix area please check the local Meetup post for times you can help with packet preparation, sign production and the purchase of supplies.
Now back to the battle,... I'll get the video edited and up as soon as I can.
Ernest Hancock
Publisher - FreedomsPhoenix

 

---