nShare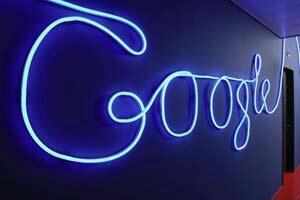 At the I/O developer conference last year, Google debuted its first chip. The company kept the component mostly for internal artificial intelligence needs. Today, version two arrived -- and Google is selling this one.

Chief Executive Officer Sundar Pichai announced the new chip on Wednesday during a keynote address at the Alphabet Inc. unit's annual I/O event. Normally, the gathering focuses on mobile software. This year's spotlight on hardware underscores Pichai's effort to transform the search giant into an "AI-first" company and a real cloud-computing contender.

Companies will be able to purchase the hardware, called Cloud Tensor Processing Units (TPUs), through a Google Cloud service. Google hopes it will quicken the pace of AI advancements. And despite official statements to the contrary, it may also threaten Intel Corp. and Nvidia Corp., the main suppliers of powerful semiconductors that run large processing tasks.

"This is basically a supercomputer for machine learning," Urs Hölzle, Google's veteran technical chief, said. Machine learning, a method for deciphering patterns in reams of data, is behind Google's recent progress on voice recognition, text translation and search rankings. But the approach cost a lot, and sucked up computing time in Google's data centers. The latest chip was designed to address these issues, and executives said they saw dramatic improvements after putting the component to work on these internal tasks.

Google wouldn't divulge the chip's price, what company manufactures it, or when the related cloud service goes on sale. Google still purchases processors from Intel and Nvidia. But by relying more on in-house designs, Google could trim its multi-billion-dollar annual computing bill.

Google plans more chips like this, and sees the components as essential for success in the cloud -- a key part of Alphabet's push to make money beyond digital advertising. Other non-advertising announcements from the conference included new voice-based commerce features for Google's digital Assistant and physical photo books selling for $9.99 or more.

"The field is rapidly evolving," Hölzle said. "For us, it's very important to advance machine learning for our own purposes and to be the best cloud."