Between commercials for glass bongs and detox products, the local radio stations are beating the voting drum.  You have to vote.  We'll show you how to vote.  Voting is a sacred duty.  We'll pay you to vote (with a cup of coffee, a free concert, etc.).
As the last notes (sounds?) of Nine Inch Nails' "Happiness in Slavery" fade away, another exhortation to vote begins.  I missed it, though, as I was engaged in a voter outreach program.
You see, everything will change for the better if we just have educated voters.  Study the issues, study the candidates, and vote your conscience, right?   
Well, "golly," I thought to myself (I never use "golly" in conversation, but my internal monologue is rife with it), how can even educated voters make a difference if they don't know where to vote?
I figured pointing out the correct place to vote would be easy.  It's not even a sales job, just a statement of fact.  So, I got out the paint gun, set up my easel and started a one-man voter outreach program.
I've had a design for a painting system in the back of my head for a while now.  Doing things the Ernie Hancock way always leaves me with an aching back.  My near-vertical method worked so well for my small signs, I quickly punched out quite a few.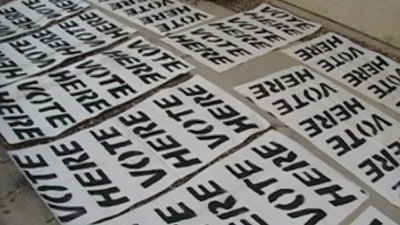 Actually, I cranked out more than a few.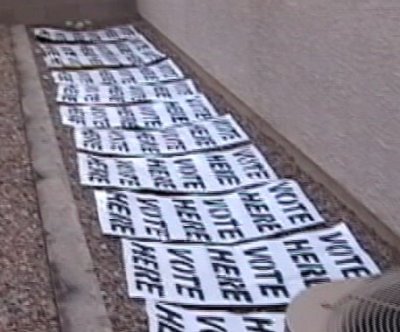 I hit the local polling place first and moved on from there.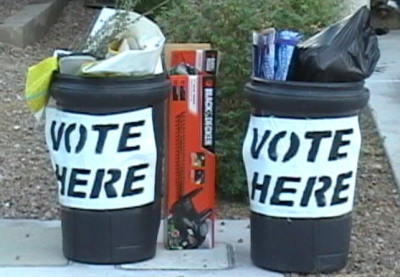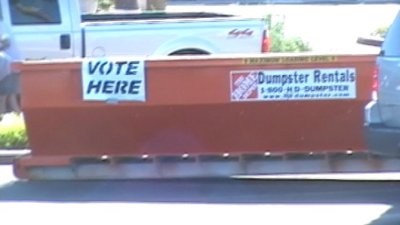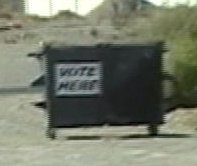 If voting is a sacred duty, then there has to be a special place in heaven reserved for those who educate voters, right?

---